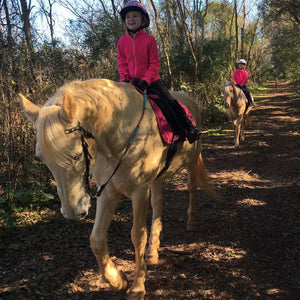 Group Riding Lessons - 1 Hour (Weekly) 
Looking for a super-fun and educational way to spend time with your friends or family? Our Semi-Private Riding Lessons are designed for family or friends who would like to take horseback riding lessons together on a weekly basis. Whether you're purchasing for your children or planning a day with a friend, our semi-private horseback riding lessons are PERFECT for learning to ride in a safe, controlled, and fun environment!
There must be at least two people taking the semi-private lessons together, and we are able to provide all lesson horses if needed. Family and friends are welcome to attend and watch the lessons.
**If you do not have at least two people, check out our Private Horse Back Riding Lessons! We also have a more laid-back Group Riding Adventure for groups of up to 6 people!**
The first lessons focus on balance and communication between the rider and the horse. This foundational training will carry the rider onto any style of riding they choose to pursue.
We offer both English and Western, Pleasure, Saddleseat, Dressage, Obstacle, Jumping, Trailing, and other specialized horse-back riding styles.
Ages 5+
Semi-Private Lessons for 2+ People
Seasoned Lesson Horses Available
Safety Gear Supplied if Needed
Highly-Qualified Instructors